titulo antes

Inspiring Activism: Sí se puede. Siete días en PAH Barcelona
June 25, 2019 at 7:30 pm

-

9:30 pm
Once a month on a Tuesday eve, NieuwLand screens a selected documentary around real histories of groups of people who questioned the imperative public opinion and decided to something about it. Afterwards, we ill run an informal chat about the documentary sharing some drinks and thoughts that it might have provoke us.
This month: Sí se puede. Siete días en PAH Barcelona. This documentary shows the day-to-day life in the Pl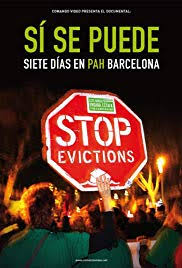 atform for People Affected by Mortgages (PAH, in Spanish: Plataforma de Afectados por la Hipoteca) of Barcelona during any of its weeks of intense activity. It was filmed during February and March of 2014. It is made up by seven interviews, which combined with images compiled during more than a year, guide the spectator through the different weekly activities carried out in the PAH Barcelona, revealing the social drama and the enormous invisible work which exists in the fight against evictions and the process of transformation and empowerment of the people that integrate this platform.
Doors open at 19:30
Screening (+/- 50 min) starts around 20:00