titulo antes

Inspiring Activism: De Rebelse Stad
September 3, 2019 at 7:30 pm

-

11:00 pm
Screening in Nederlands, with English subtitels (Dutch below)
Once per month in NieuwLand & BalkonTactics screen a documentary about real histories of activism. This month: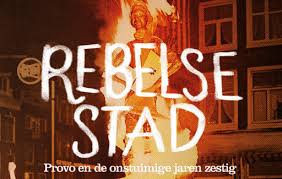 De Rebelse Stad.
De Rebelse Stad tells the story of the big change in Dutch society in the revolutionary sixties, by the 'protest generation' called Provo. Rebelse Stad contains unique film material from the fifties and sixties in which the post-war youth taste the freedom and try to free themselves from the religious conduct and norms of the generations before them, causing a severe generation conflict. Provo only existed for two years, but the Netherlands had changed forever. Much of what we consider normal now, has started in these years.
Doors open: 19:30, start 20:00
— NL
Eens per maand screent NieuwLand & BalkonTactics een documentaire over activisme. Deze maand: De Rebelse Stad.
Rebelse Stad vertelt het verhaal van de grote verandering in de Nederlandse samenleving. Met de komst van de beatgeneratie en van de protestgeneratie ontstonden bewegingen die tot een onomkeerbaar proces hebben geleid in ons land.
Rebelse Stad laat zien hoe een klein groepje jongeren in het Amsterdam van de jaren zestig met anarchistisch elan en ludieke acties de macht uit haar tent lokt, politie en burgemeester tot wanhoop drijft, de jeugd een eigen stem geeft en Nederland voorgoed verandert. De protestgeneratie zorgt voor een hevig generatieconflict. Provo wordt de spreekbuis van het verlangen naar verandering. Rebelse Stad vertrekt vanuit de jaren vijftig met beatniks, marihuana, nozems, pleiners en dijkers en happenings naar de revolutionaire jaren zestig. De film bevat uniek filmmateriaal uit die jaren en laat de periode herleven waarin naoorlogse jongeren vrijheid proeven en zich proberen los te maken van God en Gebod van de generaties voor hen. Provo bestond maar twee jaar, maar Nederland was voorgoed veranderd. Veel van wat we nu als vanzelfsprekend beschouwen begon in die jaren.
Deuren open: 19:30, aanvang 20:00.