titulo antes

Algoritmic Kitchen. Recipe for understanding big data.
June 23, 2017 at 11:00 am

-

7:00 pm
Algoritmic Kitchen. Recipe for understanding big data by Luis Fernandez.
Algorithmic Kitchen is a Hands-on programming session workshop where you will learn how algorithms munch on big data and how these algorithms are made. During this workshop you will make your own and we will let it crunch its logic on a large database of fine cuisine. Together we will cook the tastiest outcomes, so that you can have your cake and eat it too.
On the first half of the workshop. We will delve into meditations about how data about us is constantly gathered, where it is stored and what technologies are used for this purpose. Then we write a bit of code to learn how to collect this data from different sources on the Internet.
On the second half, we further develop our algorithms together and prepare to cook the results from each group.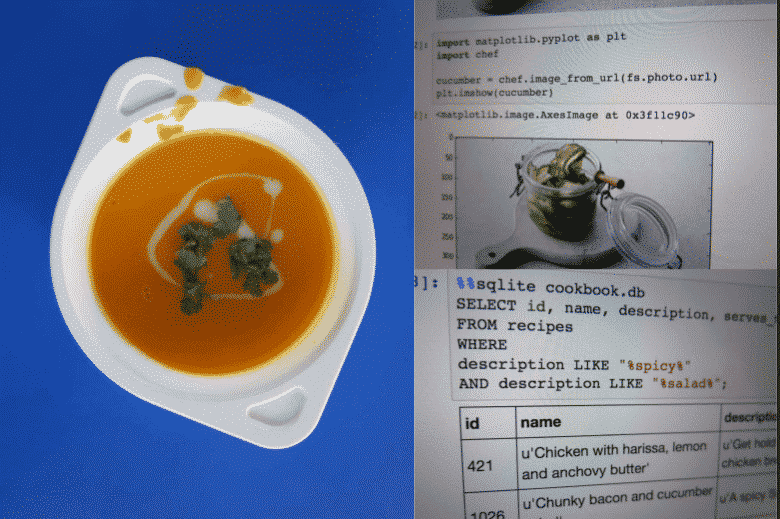 From 19:00 we serve the food we all cook.
RECIPE FOR UNDERSTANDING BIG DATA
serves: 20 people
prep time: 8 hours
level: some experience can help
INGREDIENTS FOR THE CONTEXT SAUCE
3 million bots on Twitter
1L of personal information bubble, crushed
several fortunes made and unmade over lines of code
1 tsp of "software will eat the world"
200 gr of black box opacity, as opaque as possible
1 very large piece of influence
3 million Km of optic fibre
1 very very large cloud
INGREDIENTS FOR THE CAKE OF UNDERSTANDING
11 thousand recipes
2220 ingredients
1 database
1 API or programming interface
2 sleeves, rolled up
a pinch of salt
a crack of pepper
PREPARATION
Mix all ingredients for the context sauce in a large bowl and let them sit for a while. You will know they are ready when you start seeing ads following you everywhere you go. On a separate tray, prepare your personal data and let it simmer on an online pressure cooker for about a year, until multiple digital personalities ferment and have a life of their own.
A bit of programming experience is useful but not strictly necessary.
Previous experience with knives and pots is also welcome.
We find that best results come from varied groups of people, not just techies or just artists, but a mix of people that includes technical, culinary and artistic skills. Some of the people in previous workshops wrote their first line of code in the Algorithmic Kitchen, so everyone is welcome.